Hi, I'm Camille and I'm a shopping addict.  Blogging has not helped this habit.  In fact, it's made it much worse.  Oh well.  Good for me, bad for my wallet.  Here's the Top 10 Things to Buy Right Now.  Note that it was extremely difficult to narrow this down to just ten things to buy.  And I will probably have a new and completely different list tomorrow.  God bless online shopping, am I right?
xx
#imjudgingyou
TOP 10 THINGS TO BUY RIGHT NOW
1.   Elina Linardaki "Hula Hoop" Sandals–  I am supposed to be in Greece right now.  I am not. To dull the pain, I'm thinking of ordering these beauties.
2.   Tome x Goop Tie-Back Shirt–  If I'm going to wear a button down, you better believe it's going to be anything but basic. This one is perfection and Gwyneth-approved.
3.   Troi Ollivierre lipstick–  I will wear any beauty product that promises to make me look like a J. Crew model.
4.   Daftbird Low Scoop Tank–  I'm really into showing off my bras at the moment. These tanks allow me to do so in the least offensive way possible.
5.   Artelier "Around the World" Bracelet–  A perfect compliment to their World Cuff, which has yet to leave my wrist.
6.   Reformation "Riley" Dress–  Reformation is killing it in the dress department. This is one of my faves.
7.   Found My Animal Ombré Rope Leash–  No shopping list would be complete without a little something for my little Pip. How darling would he look in one of these hand-crafted, ombré leashes?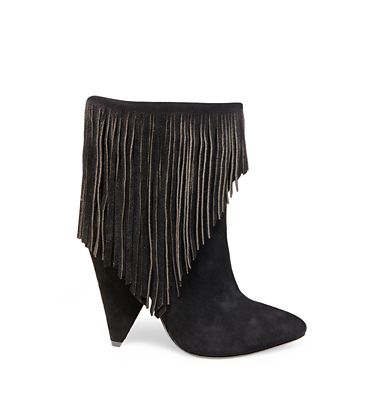 8.   Steve Madden "Payyton" Fringe Booties–  Even thought we're in the dead of summer, it's never too soon to start shopping for fall. These are an affordable version of the ones that I really want.

9.   Haati Chai "Cecil" Bra Chain–  I am loving body jewelry right now.  It is my non-committal take on piercings and tattoos. This bra chain would look amazing peering out from a draped tank.
10.   Michi "Phoenix" Sports Bra–  Is is gym clothes?  Party clothes?  Who knows.  All I know is that I need it.  P.S.  Use this link for $50 off your purchase from Carbon38!
Images via journelles.de, wendistry.com, goop.com, bbook.com, artelier.mx, popsugar.com, shopify.com, stevemadden.com, haatichai.com + carbon38.com